2023-2024 Officer Board:
The 2023-2024 officer board elections are complete; below is a list of current members along with their contact information and short bios.
If you are interested in being part of the 2024-2025 officer board, get involved as soon as possible. Elections will be held in the latter half of the Spring Semester.
Contact us at gatechasce@gmail.com if you have any questions!
2022-2023 Officer Board:
President, Zoe Zhang  (zzhang743@gatech.edu)
About: Zoe is a first-year master's student in structural engineering from San Ramon, California. This summer, she was a structural investigations intern at WJE, as well as a research assistant on an architecture research team designing infrastructure using discarded wind turbine blades. Within ASCE, Zoe has served over the past few years as the Social & Philanthropy Chair, External VP, Steel Bridge Co-captain, and National Student Ambassador, and President. Other organizations/activities that Zoe is involved in include undergraduate research, CoE Undergraduate Advisory Council, and CEE Ambassadors. In her free time, Zoe enjoys rock climbing, cooking, and volunteering.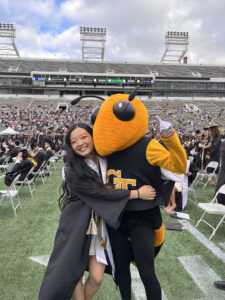 Vice President of Internal Affairs, Gabriel Ackall (gackall@gatech.edu)
About: Gabriel (Gabe) Ackall is a second-year civil engineering student from Chapel Hill, NC focusing on structural engineering. This summer, he worked on various highway and pedestrian bridges as a structural intern at A. Morton Thomas Engineering. In addition to being a member of ASCE, Gabe is the Co-Design lead and Conference Chair of AISC's Steel Bridge team. He is also a member of the Re-Wind project working with President Zoe Zhang to help repurpose old wind-turbine blades into new infrastructure like bridges, utility poles, and more. In his free time, Gabe enjoys playing soccer, the guitar, and hanging out with friends.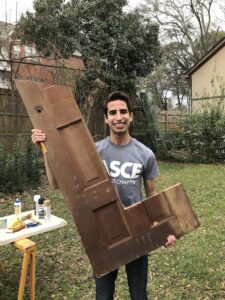 Vice President of External Affairs, Lisa Wu (lwu97@gatech.edu)
About: Lisa is a fourth-year civil engineering student from Duluth, GA with an interest in construction engineering. This will be her third year in ASCE and has been involved with AISC Steel Bridge and ASCE Concrete Canoe. This summer, she studied abroad in London for 5 weeks, and then worked with Clark Construction in Washington, D.C. She plans on getting a Master's in Civil Engineering through the BS/MS program. She was previously the social and philanthropy chair and captain for Construction Institute at Conference. In her free time, Lisa enjoys eating food, petting dogs, and going to museums. 🙂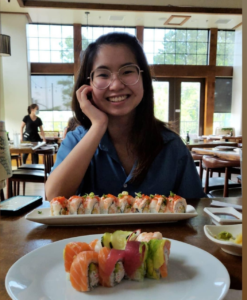 Treasurer, Matthew Liu  (matthew.sh.liu@gatech.edu)
About: Matthew is a fourth-year civil engineering student hailing from Edison, New Jersey. He is currently focusing in transportation, which has brought him to working for the Eastern Federal Lands Highway Division in the summer of 2022. Besides his role in ASCE as the treasurer, Matthew is also active on the GT club volleyball team and works on campus as a Wreck Tech. In his free time, he also likes to make origami and to play video games with friends.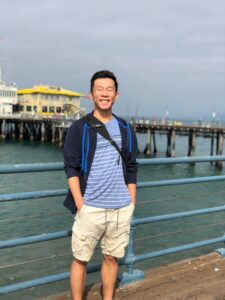 Secretary, Daniel Ng (dng34@gatech.edu)
About: Daniel is a second-year civil engineering undergraduate from Falls Church, VA. In addition to classes, this summer he took part in researching currently unused materials like industrial byproducts as cement replacement materials (CRMs) to decrease waste. As a member of GT ASCE, he has also participated extensively in Concrete Canoe and was the captain of the concrete skee ball side competition. In his free time, Daniel enjoys doing yoga, biking, reading, and playing video games.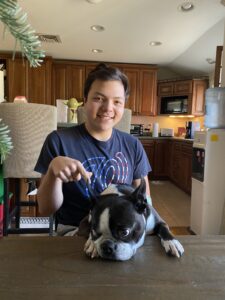 Conference Chair, Arya Desai (andesai18@gatech.edu)
About: Arya Desai is a 2nd-year Civil Engineering Student from Chicago, IL. This summer, Arya was a Project Intern with Balfour Beatty Construction. He helped the Sprayberry Highschool team build part of the new gym and focused on the delivery of the internal renovations. After joining ASCE his 1st year, Arya participated in many of the successful Conference teams and had the opportunity to go to Nationals alongside the Surveying Team. Arya has grown a passion for Conference having been to two already, and is looking forward to leading GT ASCE to Conference this year. In his free time, he enjoys Cycling, hanging out with friends, traveling to new places, discovering new shows, and playing chess.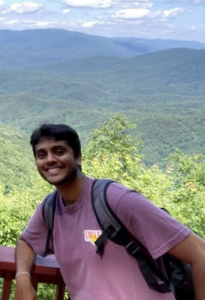 Social Media Chair, Jackie Zong (czong6@gatech.edu)
About: Jackie is a second-year civil engineering student with a minor in architecture from Narberth, Pennsylvania. This summer, Jackie was a Serve-Learn-Sustain intern at the Lifecycle Building Center and a research assistant in the Social Equity & Environmental Engineering Lab (SEEEL) working on a policy review of the Houston Green Stormwater Infrastructure plan. Within GT ASCE, Jackie was involved in several conference competitions, such as Sustainable Solutions, Innovation Contest, and Construction Institute. In his free time, Jackie enjoys sim racing, hiking, and drinking water.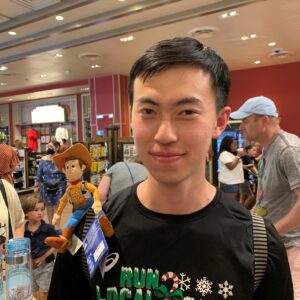 Service Chair, Clara Bailey (cbailey76@gatech.edu)
About: Clara is a third-year undergraduate student in Civil Engineering with a minor in Spanish from Orland Park, Illinois. This summer, she studied abroad in Cuenca, Ecuador, as well as the Galapagos Islands to study sustainability and culture in South America. Within ASCE, Clara has been a member of the GT Concrete Canoe team and had the grand honor of leading Tech to a comfortable mid-rank placing in the Womens' Sprint Race at the 2022 ASCE Conference. Clara has also participated in research within CEE at Tech, studying both transportation and fluid dynamics; additionally, she has participated in other organizations/activities, such as: Hall Council, Tech Tutoring and Academic Support (as a Statics Learning Assistant), marching band, AEES, and jazz band. In her time off, Clara loves to play her saxophone, draw, paint, watch movies, eat, volunteer, and lay on the floor with her dogs.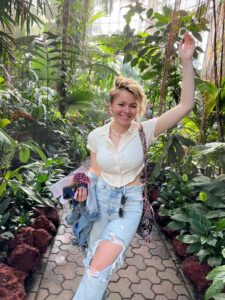 Social Chair, Teddy Lemire (tlemire3@gatech.edu)
About: Teddy is a third year civil engineering student from Brooklyn, New York who's interested in construction and structural engineering. This is his second year with ASCE. Last year, he worked extensively with both the concrete canoe and steel bridge teams, serving as a build team member on the latter, and also co-captained the concrete cornhole team to a first place finish at regionals. This summer, he worked as a construction intern with Calgi Construction. In addition to his position as social chair, he will also serve as co-captain of the concrete canoe team this year. In his free time, Teddy enjoys playing soccer and golf, cooking, watching sports, working out, and oversleeping his alarm.